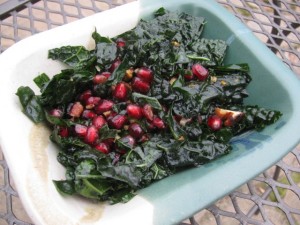 Dried Kale, or steamed - Kale is a summer treat i remember that Grandma Used to steam with caramelized diced onions, and fried bacon crumbles.
It is great with kale, or swiss chard. Lindsey makes a great treat published at
77 Square
. EMJOY!
Kale Salad with Pomegranate and Pecans
Inspiration nod to YumSugar.
1 teaspoon Dijon mustard (make sure if you are making something nighshade free, it hasn't paprika)

1 tablespoons pomegranate molasses
1/4 cup (4 tablespoons) good quality extra-virgin olive oil
Sea salt, coarsely ground
Freshly ground black pepper
1 large bunch (about 6 cups) Lacinato kale leaves, stemmed and sliced into a 1/4" shred
1/2 cup pecans, toasted and roughly chopped
1/2 cup fresh pomegranate seeds (see note)
In a medium mixing bowl, whisk together mustard and pomegranate molasses with olive oil. Season to taste with salt and pepper.
In a large salad bowl, toss together kale, pecans, and pomegranate seeds. Drizzle in dressing and use your hands to massage the dressing evenly into the greens until dressing is well-distributed, 3 to 5 minutes.
Note: To easily remove pomegranate seeds, open the fruit over a bowl of water in the sink (the juice will splatter and stain). Pry the seeds out with your hands and drop them into the bowl; the pith will float to the top. Strain and remove any extra pith. Seeds will store for about 5 days in an airtight container in the fridge.